Maker Camp is funded in part by the Gordon and Betty Moore Foundation and the generous support of the Members of Make: Community.
2 days if on own, 1.5 days if you have help
TO COMPLETE
---
WHAT WILL YOU MAKE?
Have hours of fun playing outdoors or just relax and hide away in this special dome-shaped den. Once you've built your den, you can be as creative as you like when you decorate it. Paint the tiles in bold colors to make striking patterns, or even turn your den into a space base, woodland hideout, or igloo!
PRINT THESE INSTRUCTIONS
WHAT WILL YOU NEED?
Cardboard sheets
Ruler
Scissors
Pencil
Strong Tape
Paints
Paintbrushes
WHAT'S NEXT?
Add fairy lights to the roof of your den to make a starry ceiling, or turn your den into a space base, tortoise, woodland hideout, or igloo!
1.) Use a sharp pencil to pierce holes through all the triangular roof tiles of your dome.
2.) Take a string of battery-powered fairy lights, and push a light through each of the holes in the roof.
3.) Turn the fairy lights on, and the roof of your dome will be filled with twinkling stars!
---
Space base
Paint your dome gray, then decorate the roof with futuristic designs. Add a satellite and antenna to your space base.
Tortoise
First, paint the dome brown for the shell. Then make the head and legs and tape them to the tabs.
Woodland hideout
Decorate your dome in a green and brown camouflage pattern. Add twigs and leaves for a woodland look!
Igloo
Paint the dome in icy blue and white colors. Then stick iceberg-shaped pieces of cardboard to the outside wall.
Please Note
Your safety is your own responsibility, including proper use of equipment and safety gear, and determining whether you have adequate skill and experience. Power tools, electricity, and other resources used for these projects are dangerous, unless used properly and with adequate precautions, including safety gear and adult supervision. Some illustrative photos do not depict safety precautions or equipment, in order to show the project steps more clearly. Use of the instructions and suggestions found in Maker Camp is at your own risk. Make Community, LLC, disclaims all responsibility for any resulting damage, injury, or expense.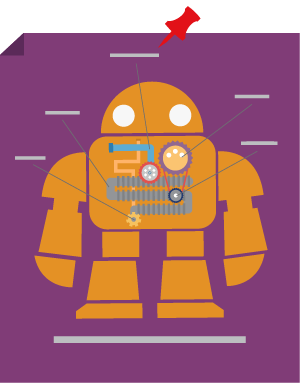 ALL DONE? SHARE IT!
Share pictures and videos of your cool build! Be sure to use #maketogether or #makercamp
POST YOUR PROJECTS
Kits and Books From Maker Shed
Make: produces a variety of great products and helpful project tutorials to enhance your making experience.