Maker Camp is funded in part by the Gordon and Betty Moore Foundation and the generous support of the Members of Make: Community.
TO COMPLETE
---
WHAT WILL YOU MAKE?
Transform a few wire hangers and some black tights into a magical set of glimmering wings.
PRINT THESE INSTRUCTIONS
WHAT WILL YOU NEED?
Four bendable wire hangers
Black duct tape
One 2-cell battery holder with leads and on/off switch
Two pairs of adult (women's) sheer black tights
Hookup wire
Eight 5mm diffused candle flicker or flash RGB LEDs (or your choice)
Large paper clip
Electrical tape
Two 3V coin-cell batteries (CR2032)
A 3' length of black elastic, 1" wide
Optional: Scraps of coordinating felt
Wire cutters (to cut the hangers)
Pliers
Wire strippers
Black marker
Scissors
Soldering iron and solder
Third-hand tool
Hot-glue gun and glue sticks
Please Note
Your safety is your own responsibility, including proper use of equipment and safety gear, and determining whether you have adequate skill and experience. Power tools, electricity, and other resources used for these projects are dangerous, unless used properly and with adequate precautions, including safety gear and adult supervision. Some illustrative photos do not depict safety precautions or equipment, in order to show the project steps more clearly. Use of the instructions and suggestions found in Maker Camp is at your own risk. Make Community, LLC, disclaims all responsibility for any resulting damage, injury, or expense.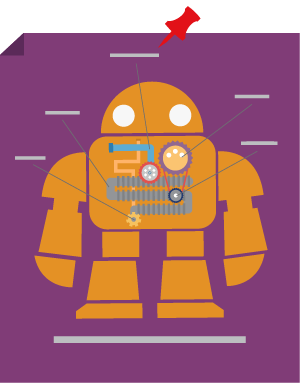 ALL DONE? SHARE IT!
Share pictures and videos of your cool build! Be sure to use #maketogether or #makercamp
POST YOUR PROJECTS
Kits and Books From Maker Shed
Make: produces a variety of great products and helpful project tutorials to enhance your making experience.