Maker Camp is funded in part by the Gordon and Betty Moore Foundation and the generous support of the Members of Make: Community.
15 MINUTES
TO COMPLETE
---
WHAT WILL YOU MAKE?
In this project, you will make a paper airplane launcher.
PRINT THESE INSTRUCTIONS
WHAT WILL YOU NEED?
Paper airplane
Flat piece of wood that is wider than the paper airplane
1 large rubber band
2 nails
Hammer
Paperclip
Hot glue gun
STEP 1
Set up the launcher.
Hammer the two nails into the board roughly one inch from the edge. Do not hammer them all the way into the board. They should stick out by at least 2 inches.
Space the nails far enough apart so that the paper airplane will have enough room to fly between them.
Stretch the rubber band around the nails.
STEP 2
Set up the airplane.
Bend the outer arm of the paper clip so that it forms a right angle with the body of the paper clip (see left picture).
Poke the bent arm of the paper clip through the center of the paper airplane about one inch from the nose of the plane.
Hot glue the body of the paper clip along the inner walls of the airplane.
STEP 3
Test your launcher!
After the hot glue has dried, slightly bend back the arm of the paper clip that is sticking out underneath the plane so that it forms a hook.
Pinch the end of the plane beneath the wings with your fingers and hook it onto the rubber band.
Pull it towards you and then release the plane to watch it fly away!
WHAT'S NEXT?
Try adding books or more pieces of wood underneath the front end of your launcher to increase the angle at which it will fly off!
Please Note
Your safety is your own responsibility, including proper use of equipment and safety gear, and determining whether you have adequate skill and experience. Power tools, electricity, and other resources used for these projects are dangerous, unless used properly and with adequate precautions, including safety gear and adult supervision. Some illustrative photos do not depict safety precautions or equipment, in order to show the project steps more clearly. Use of the instructions and suggestions found in Maker Camp is at your own risk. Make Community, LLC, disclaims all responsibility for any resulting damage, injury, or expense.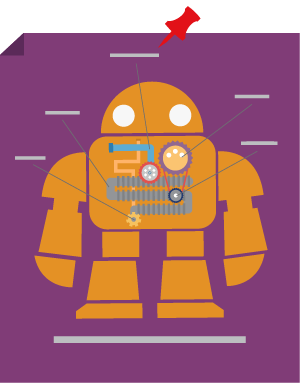 ALL DONE? SHARE IT!
Share pictures and videos of your cool build! Be sure to use #maketogether or #makercamp
POST YOUR PROJECTS
Kits and Books From Maker Shed
Make: produces a variety of great products and helpful project tutorials to enhance your making experience.